VNAcare Provides the Care You Need.
VNAcare services include hospice and palliative care by licensed healthcare professionals wherever a patient lives. We offer a professional evaluation at no cost to help patients and their families choose the care that is right for them.
We serve those with a life-limiting illness. Our services focus on making a person's final journey comfortable, dignified, and meaningful.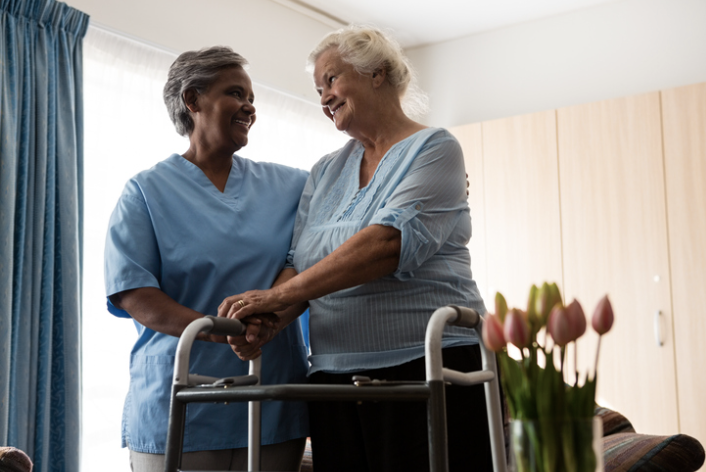 We Bring Care Home
VNAcare brings the services you need wherever you call home; a private home, assisted living facility, board & care, or a skilled nursing facility. Our care teams include everyone from doctors and nurses to social workers, physical therapists, chaplains, home health aides and volunteers. Wherever you are, our services are available 24 hours a day to support you and your loved ones.
Hospice Care Services Include:
Routine visits by registered nurses with training and expertise to help manage pain and uncomfortable symptoms.

Medications related to the terminal illness., medical equipment and medical supplies necessary to stay comfortably and safely at home.

Home health aides who provide personal care and help with the tasks of daily living such as bathing and dressing, as well as other personal care assistance.

Social workers and chaplains are part of our team and provide emotional and spiritual support.

Volunteers who provide companionship and support for patients and their loved ones during challenging times.

Over a year of bereavement counseling services.
Grief can shake everything up – your beliefs, your personality, and even your sense of reality. So if you have recently experienced the death of someone or are anticipating the loss of a close friend or relative, you might be finding it difficult to adjust to the significant changes in your life. Grief and bereavement is the time we spend adjusting to our loss. Our experienced support team provides support to you through the grieving journey. LEARN MORE
VNAcare, a certified VA provider, is privileged to care for our nation's veterans. VNA is contracted with the VA and employs a full-time VA community liaison to facilitate communication between the VA and the VNA. This ensures that both agencies are successfully collaborating to ensure the best possible care for veteran patients from both the VA and VNA. LEARN MORE
The decision about whether and when to start hospice can be difficult and many times there is a lot of misunderstanding about what hospice care is. Our team gets asked many questions about hospice, so in addition to being available by phone to answer your questions, here is a link to a PDF with the most common myths and facts our answers to the most frequently asked questions we receive.