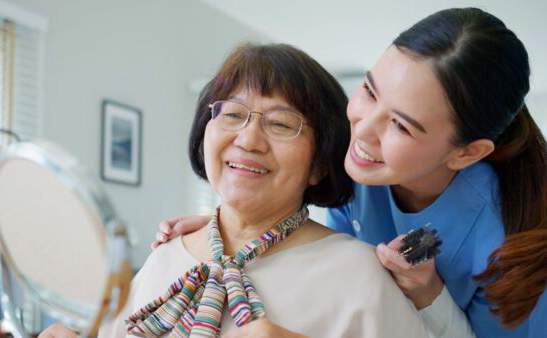 Volunteer Coordinator – Ontario and Apple Valley offices
Volunteer Coordinator – Murrieta office
If you're looking for a local volunteer opportunity, consider becoming a hospice volunteer. The essence of volunteering with hospice begins with a genuine desire to give comfort, care, and companionship to patients, caregivers, and family members as they face the end-of-life. Our volunteers have a tremendous impact on the lives of the patients they work with; they act as an essential bridge between the families, patients, and caregivers. Ultimately, the volunteer's goal is to make each patient as comfortable as possible by offering companionship and support.
What skills do I need to become a hospice volunteer?
Above all, volunteers need a spirit of compassion and understanding towards those who are on the end-of-life journey. Successful volunteers also respect all cultures of life, customs, and religious views. Finally, we need people who are good listeners and can be comfortable in silence.
Why do hospice organizations need volunteers?
The federal government requires that 5 percent of the care a hospice patient receives be provided by volunteers for the hospice organization to accept Medicare and Medicaid reimbursement [Source: Hospice Foundation of America]. The hospice movement began as a group of dedicated volunteers. Today, volunteers remain an essential part of our program.
Hospice Volunteer Training
Before beginning volunteer service, hospice volunteers receive training. This education prepares volunteers for the administrative functions they may perform for VNAcare or how they will be directly assisting patients, caregivers, and families.
Understanding the hospice philosophy of care
Learn to know boundaries as a volunteer when interacting with clients  and families

Understand the spiritual, emotional, and physical needs of a patient and the patient's family during the end-of-life journey

Be aware of the services offered by VNAcare

Learn how to communicate with patients, their families, and friends

Discover how to assist patients and families with grief, loss, and bereavement

Understand patient and health information privacy
And finally, volunteers should have the ability to listen and be comfortable in silence.
Effective hospice volunteers recognize that their role is one of compassionate service.
The presence and service of hospice volunteers is targeted towards providing patients, caregivers, and families with the most comfortable and compassionate end-of-life experience possible.
"I had begun my training program as a hospice volunteer. The job description turned out to be as varied as it was humbling. They taught us how to respond to a client working through questions about dying; how to support family members struggling to make sense of a confusing and stressful situation; how to listen with patience and objectivity, all while being cautious not to become embroiled in family affairs… We learned, in short, the art of dignity."
Eric Démoré
Hospice Volunteers: they are unpaid, yet priceless.
Many volunteers have been former family members of those VNASC has cared for and are now motivated to provide the same compassionate care that they received during a difficult time. Wherever your talents lie, VNAcare has a place for you.
What will I do as a hospice volunteer?
VNAcare volunteers may assist the agency in a number of ways:
Working directly with patients and families by providing individual patient support

Providing caregivers respite to allow the primary caregiver some time to run errands, go to doctors' appointments, etc.

Assist with bereavement care.

Help with office work such as mailings or helping with special events.
Volunteer Requirements
Be 18+ years of age

Complete an interview with the Volunteer Coordinator

Attend six to nine hours of training classes

Allow VNAcare to obtain your Criminal Background Report

Provide VNAcarewith a signed Physicians Health Statement

Receive a TB test (administered at no cost by VNAcare)

Have a valid driver's license or ID card

Provide proof of current auto insurance

Commit to one to four hours per week of patient care volunteer service for a minimum of one year.
Please Share!
Do you know someone who would make an amazing volunteer? Please share!
Thank you, Upland Quilters!
We'd like to thank the Upland Quilters for creating and donating these beautiful quilts for hospice patients.