Thank a Special Caregiver
Through the Shining Star Recognition Program
Our Shining Star program offers families the opportunity to say "thank you" for the support they have received from a VNAcare caregiver by nominating them for special mention as a "VNAcare Shining Star" and making a charitable gift. A few examples include:
Honor an exceptional VNAcare Caregiver and by sharing a story that acknowledges someone who made a difference to you.
Express your appreciation for a particular physician, nurse, social worker, chaplain, home health aide.
Your VNAcare Shining Star will be notified of your donation and will receive a custom-crafted Shining Star lapel pin to wear as a symbol of pride in service, and will be recognized by her or his supervisor.
As a nonprofit organization, VNAcare supports the community with the Marsha Fox Charitable Care Fund. A tax-deductible gift through VNAcares' Shining Star program enables us to assist patients with limited financial resources.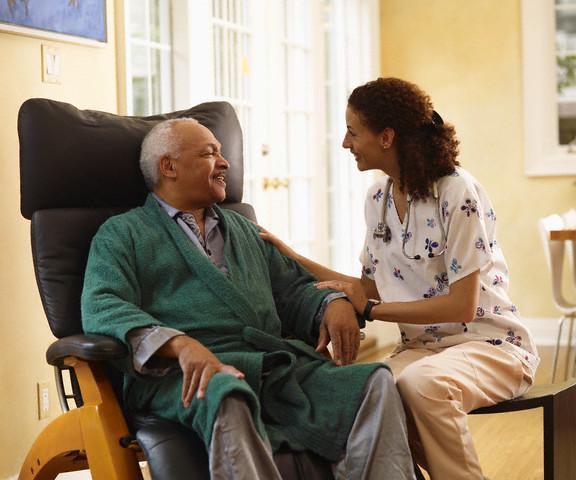 Who is Your Shining Star?
Patients and their families often ask how they can express their appreciation to a special hospice caregiver, a "Shining Star" physician, nurse, chaplain, social worker, home health aide or volunteer. Many send a personal note of thanks, but sometimes they want to do more. Your tax-deductible gift through our Shining Star program will both provide a meaningful way to honor a hospice caregiver and allows us to continue to give back to the community through our Charitable Care Fund. With your donation, your Shining Star will receive a letter acknowledging your gift and a custom- crafted lapel pin to wear proudly.
Our Shining Stars Are:
Kind
Take pleasure in helping others
Compassionate
Exhibit a desire to help ease suffering or distress
Benevolent
Show a selfless desire for the well-being of others
Generous
Go the extra mile providing care and support
Professional
Demonstrate an expertise in his or her work
"Although the days are busy and the workload is always growing, there are still those special moments when someone says or does something and you know you've made a difference in someone's life. That's why I became a nurse."
— Diane McKenty
Honor a Shining Star
If you would like to honor your own special caregiver or have questions about the program,
please call at 909-447-7333 or email at development@vnacare.com.
The story of how you or a loved one were impacted by the care received during the hospice journey can be of great encouragement to our staff. It can also inspire others to support the good work being done for the benefit of our entire community. Please share your experience with us below and we will pass along your kind words to your hospice caregiver.