Handmade Doll Houses For Hospice Kids
The Ponte Vedra Recorder published a story about a man named Brendan Hoffman of Ponte Vedra Beach, FL who warmed peoples hearts with his handmade donation of two victorian-style doll houses. Article written by Samantha Logue. Photos by Samantha Logue.
Hoffman donates these handmade doll houses each year around Christmas time to the terminally-ill children in the local Community Hospice & Palliative Care's Community PedsCare Program. Hoffman said his project was born out of a promise he made to his daughter, who died of melanoma in 2009. Hoffman spent the last six weeks of his daughter's life by her bedside in hospice care, and that was where she made one of her final requests. She requested her father to build doll houses, like the ones he made her when she was growing up, for younger kids in hospice care.
"I've been trying to keep my promise to her," he said. "I told her I'd do these as long as I can … and if it takes their minds off their sickness, this is all worth it. It really is."
Brendan Hoffman has kept his promise, and each year he dedicates half of the year to building the intricate houses. Often he even goes the extra mile to decorate them with Christmas lights and decorations. In addition to the doll houses, Hoffman has begun making tabletop corn hole sets for boys with the help of his wife.
If you'd like to read more about Brendan Hoffman and this amazing story, we urge you to read the original article at PonteVedraRecorder.com. It's well worth your time!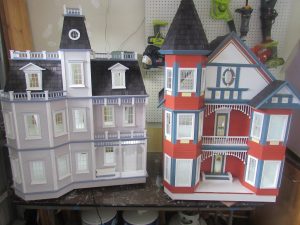 November is National Hospice & Palliative Care Month
November is National Hospice & Palliative Care month. We want to do our part to raise awareness for Hospice and Palliative Care. Hospice care can do wonderful, remarkable things and those who work in the industry know first hand.